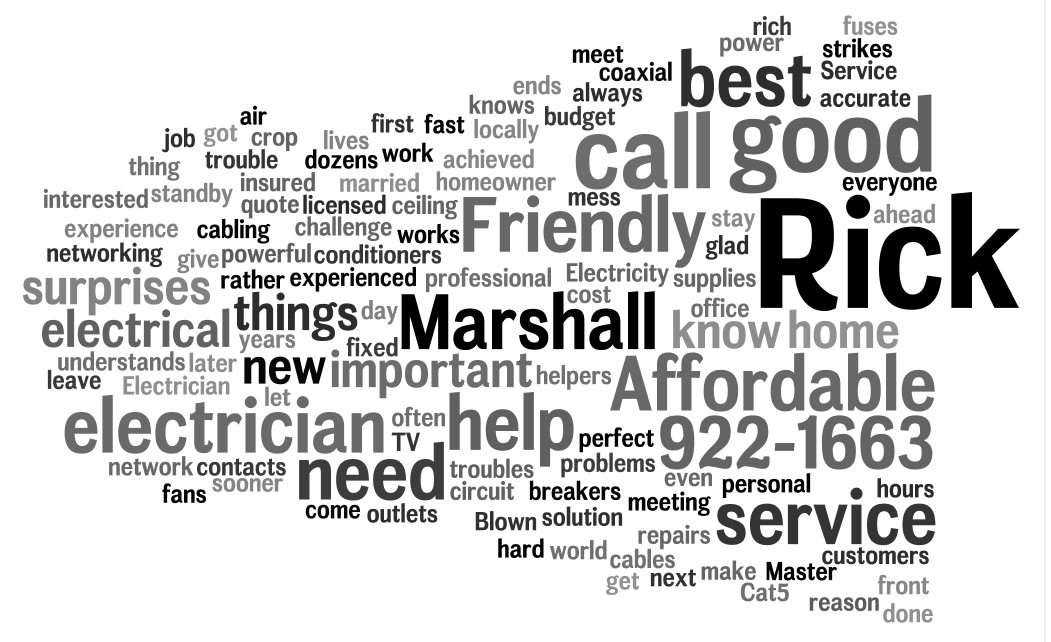 Rick Marshall is a licensed & insured Master Electrician with 27 years of professional experience | (978) 838-0011 | rjmarshallelectric@charter.net
If you need an electrician, the first and best reason to call Rick Marshall is because he's very experienced. If you've got electrical troubles at your home or office, it's important to get things fixed sooner, rather than later. Electricity is too powerful - and too important - to leave things in a mess. Blown fuses, circuit breakers, new outlets, new electrical service, ceiling fans, air conditioners, power supplies; even Cat5 networking cabling and TV coaxial cables - the best solution will always be achieved with the help of a good electrician.
As a married homeowner who lives and works locally, Rick knows how hard it is to make ends meet. All too often, when problems crop up at home or work, meeting the cost of good repairs is a challenge. But Rick understands this and he's interested to help his customers stay ahead of surprises. When you call Rick, he'll give you an accurate quote. And if the job can't be done on your budget, he'll let you know up front, so there are no surprises.
In a perfect world, everyone would be rich and have dozens of personal helpers on standby 24 hours a day. But the next best thing is to have a good network of contacts, so when trouble strikes, you know who to call. If you need a good electrician to come fast when you need help, call Rick Marshall. You'll be glad you did. (978) 838-0011.